12-Night Ireland Intensive Voyage
Offer ID: 1470245
Ship Name: Azamara Onward
Sailing: Monday, Jul 01, 2024
Length: 12 Nights
Step aboard the new Azamara Onward℠, and arrive at the doorstep of the globe's most hidden gems and storied cities. Built to cross oceans, cruise along scenic waterways and dock at locations larger ships can't access — this small ship cruising experience is unlike any other. thoughtfully-planned itineraries feature more extended stays, more overnights, and unique night touring, giving you more time for what matters — experiencing the history, arts, cuisine, and local customs that make each port memorable. And after a day spent discovering the treasures of your destination, retreat to your seaside sanctuary for ocean views, saltwater breezes, and all the lush amenities you can imagine. From 24-hour room service to five-star butler service, the luxury staterooms and spacious suites deliver genuine tranquility and comfort.
Choose ONE of the options below.
ONE Private Car & Guide: Local Highlights Tour (Value - $525 per Couple) in the port below.
ONE Private Car & Guide: Customize Your Day Tour (Value - $500 per Couple) in the port below.
$250 per Couple Shipboard Credit
Port Option: Belfast - Please click here for the tour descriptions.
Note: Amenities are not combinable with bookings in guarantee categories W, X, Y or Z.
Cruise Inclusions:
INCLUSIVE AMENITIES FOR ALL GUESTS:
Complimentary AzAmazing Evenings® event (on most voyages)
Select standard spirits, international beers and wines
Gratuities
Bottled water, soft drinks, specialty coffees and teas
Self-service laundry
Shuttle service to and from port communities, where available
Concierge services for personal guidance and reservations
PLUS ADDITIONAL INCLUSIVES FOR SUITE GUESTS:
English butler service
235 complimentary internet minutes, per guest
Complimentary seating in the specialty restaurants
One free bag of laundry service per suite, each seven days
Afternoon tea service in-suite
$300 Onboard Credit per person

(Club World Owners, Club Ocean & Spa Suite categories only)
Offer ID: 1470245
Reference this number when contacting our agency so we may better serve you. Also keeping this number handy will allow you to locate this document again quickly.
Itinerary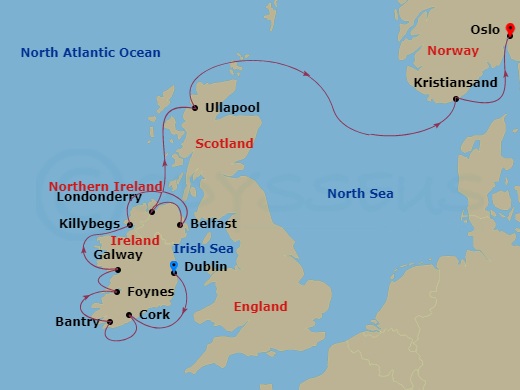 ×
Destination
Arrival
Departure
Dublin
Monday, Jul 01, 2024
Monday, Jul 01, 2024
Dublin enjoys one of the loveliest natural settings in Europe. Dublin attracts visitors from around the world with its old world charm and friendly atmosphere. Most of the architecture dates from the 18th century, when Dublin enjoyed great prominence and prosperity. Also of interest are stately Georgian houses which front Merrion Square. O'Connell Street is considered the commercial center of Dublin. Perhaps the most memorable feature of Dublin is the traditional pub, where visitors can enjoy conversation over fine Irish brew. The city also offers many fine parks, including St. Stephen's Green and Phoenix Park. National Gallery's renowned collection includes works by such famous masters as Rembrandt and Monet. Trinity College's Old Library is home to the most cherished treasure, the Book of Kells, a manuscript of the Gospels. Admire Christ Church Cathedral and St. Patrick's Cathedral. Enjoy the exhibits in impressive National Museum. Self-guided walking tours include Old City Trail, Georgian Heritage Trail and the Cultural Trail.
At Sea
Tuesday, Jul 02, 2024
Tuesday, Jul 02, 2024
No Description Available
Cobh
Wednesday, Jul 03, 2024
Wednesday, Jul 03, 2024
Cobh's landmark Cathedral clings miraculously to the town's steep slopes as they sweep down to the sea of Cork Harbour. That was also the last bit of Irish soil millions of Irish had under their feet before emigrating from here across the oceans in the last century. This tragic part of the nation's history as well as Cobh's historic and maritime story is brought alive in the splendid Interpretative Centre.
Bantry
Thursday, Jul 04, 2024
Thursday, Jul 04, 2024
No Description Available
Foynes
Friday, Jul 05, 2024
Friday, Jul 05, 2024

Foynes is know for it's aviation history where Foynes was the landing site of Pan Am's first commercial passenger flight from the USA to Europe in 1939. At the flying boat museum visitors can see an amazing replica of this plane and learn more about aviation history. In August, Foynes holds an aviation and Irish Coffee festival in the yachting and watersports center. Of archaeological interest to visitors are the ruins of a medieval church look out from the hill of Knockpatrick, south of Foynes, and 5 miles to the southeast is the 13th century Old Abbey convent of the Augustinian Canonesses.

Galway
Saturday, Jul 06, 2024
Saturday, Jul 06, 2024
Galway is a city, a county, and an experience to be savoured and remembered. The historic city of the tribes dances to a beat uniquely it's own. There is a certain chemistry and vibrancy to this friendly university city, which many delight in, and few forget. Music, festivals, horse racing, pubs, restaurants, shops, theatres and most of all -Galway people, combine to create this atmospheric medieval city of culture. From this pulsating heart the rest of the county flows. Galway Bay, immortalised in song, its beauty unchanging. Scenic Gaeltacht areas including the Aran Islands. Connemara, with the picturesque town of Clifden as its capital. Mountains, castles and stone walls, banks of turf, long sandy beaches, clear lakes, joyful leaping streams and flowing rivers. The mighty Shannon, delightful countryside punctuated by pretty villages, traditional pubs. Photo used with permission from Joe Desbonnet, www.galway.net
Donegal
Sunday, Jul 07, 2024
Sunday, Jul 07, 2024
The county of Donegal contains breathtaking views of landscapes and seascapes set against a backdrop of mountains and moors, with evidence everywhere of traditional Irish Celtic culture. Its vast rugged coastline is mixed with beautiful beaches with golden sand and crystal clear waters. In addition to Donegal's spectacular vistas, other major attractions include Glenveagh National Park and Castle, Glebe House and Gallery, Tory Island, Abbey Mill Wheels, Fort Dunree Military Museum, Colmcille Heritage Center and many interesting Celtic ruins.
Belfast
Monday, Jul 08, 2024
Monday, Jul 08, 2024
Belfast is popular with travelers who come to discover the city's physical beauty and renewed tranquility. Enjoy performances at the Grand Opera House, shopping along trendy Donegall Place and visiting numerous pubs along The Golden Mile. St. Anne's Cathedral, also known as Belfast Cathedral, is the principal church of the Anglican Church of Ireland and contains stones from every county in Ireland. Located next to Europa Hotel, the Grand Opera House boasts an impressive mix of large productions of opera, ballet, musicals and drama. Known as the Big Ben of Belfast, the Albert Memorial Clock Tower was built in 1869 to commemorate the Prince Consort. Built in 1849 as one of Queen Victoria's colleges, Queens University is one of the foremost universities in the British Isles. The classical-style building of Stormont, erected in 1928-32 to house the Parliament of Northern Ireland, stands 3.5 miles outside the city. The Prince of Wales Avenue is exactly one mile long and is bordered by rose beds containing 600 of the famous Korona roses noted for their scarlet blooms.
Londonderry
Tuesday, Jul 09, 2024
Tuesday, Jul 09, 2024
Londonderry (Derry) is a city of contrasts, culture, and heartwarming hospitality. Protective walls erected in 1614 present a good image of what the town's fortification looked like more than 350 years ago and offer a splendid view over the roofs and buildings. The city's architectural legacy retains many elegant reminders of fortunes gleaned from trade. Discover the grandeur of Georgian terraces and the ornate facade of the building that once housed the shirt and collar industry. The city offers history and heritage. Major attractions are the 17th-century cathedral and the neo-Gothic guildhall. The town square has been known since the 17th century as the Diamond and lies at the junction of the four principal streets, still following the medieval plan. Derry provides a convenient base for exploring Donegal County, one of the country's most scenic areas in glorious wilderness. Located outside Londonderry, Dunluce castle is famous as the former residence of the great O'Neills clan. The Grianan of Aileach - which dates back to 1700 B.C., was originally a temple of the sun.
Ullapool
Wednesday, Jul 10, 2024
Wednesday, Jul 10, 2024
Situated on Loch Broom and only 59 miles from Inverness, Ullapool is the largest settlement in Wester Ross. It was purpose built as a herring station to a Thomas Telford design in 1788. It is also an excellent base from which to explore the Northwest Highlands. Most of the main roads north of here have been upgraded over the years, and staying in Ullapool and using it as a touring base is now a viable and attractive option.
At Sea
Thursday, Jul 11, 2024
Thursday, Jul 11, 2024
No Description Available
Kristiansand
Friday, Jul 12, 2024
Friday, Jul 12, 2024
Set on the scenic southern tip of Norway, at a magical spot with more sunshine than anywhere else in Scandanavia, little Kristiansand is Nature's playground. Its spacius, ice-free harbor is ringed with thousands of tiny islands, a haven for swimmers, boaters and sport fishermen. Along the waterfront, in the silent Christiansholm fortress, and the charming houses of the historic center, you'll find a peaceful serenity.
Oslo
Saturday, Jul 13, 2024
Saturday, Jul 13, 2024
Oslo, Norway's capital and largest city, is encircled by wooded hills and snowcapped peaks. The city displays a mixture of several architectural styles. A full range of activities includes art galleries, museums, restaurants, theaters and nightclubs. Other points of interest include Royal Palace; Frogner Park, known for its famous Vigeland sculptures; Holmenkollen, where international skiing events take place; imposing Åkershus Castle; and Bygdøy Peninsula, home to some of Oslo's most important museums. Many attractions can be explored on foot. Oslo's City Hall ranks as the most distinctive part of Oslo's waterfront. The art portrays the country's different historical and domestic phases. Munch Museum, which is dedicated to the life work of Norway's famous painter, contains more than 5,000 drawings and paintings. National Gallery has the nation's largest collection of Norwegian art and some of Munch's best-known works. Åkershus Fortress & Castle, transformed into a Renaissance palace in the 17th century, houses Norway's Resistance Museum.
Offer ID: 1470245
Reference this number when contacting our agency so we may better serve you. Also keeping this number handy will allow you to locate this document again quickly.
Remarks:
Prices are per person, based on double occupancy. Airfare, Taxes, Fees and Port Expenses are additional for all guests. Pricing for 3rd and 4th guests are available upon request and are subject to stateroom category availability. Prices change frequently and are subject to availability at time of booking. Pricing listed may not be combinable with promotions/amenities.
All fares are quoted in US Dollars.
Information and pricing is subject to change without notice. While we do our very best to ensure that information and pricing appearing in this website is complete and accurate, we cannot be responsible for incomplete and inaccurate representations, which may or may not be under our control. In the event of a pricing issue, misrepresentation or omission, we reser the right to adjust the pricing or make nay other changes. Prices shown are in USD unless stated otherwise.